Overview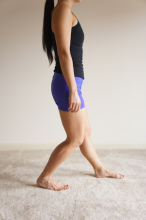 Achilles tendonitis is inflammation and tendonosis is degeneration and irregular healing of the achilles tendon. The achilles tendon is the large tendon located in the back of the leg that inserts into the heel. The pain caused by achilles tendonitis/osis can develop gradually without a history of trauma. The pain can be a shooting pain, burning pain, or even an extremely piercing pain. Achilles tendonitis/osis should not be left untreated due to the danger that the tendon can become weak and rupture requiring surgery.
Causes
Achilles tendinitis may be caused by intensive hill running, sprinting, or stair climbing. Overuse resulting from the natural lack of flexibility in the calf muscles. Rapidly increasing intensity of exercise, especially after a period of inactivity. Sudden and hard contraction of the calf muscles when exerting extra effort, like that in a final sprint or high jump.
Symptoms
Paratenonitis presents in younger people. Symptoms start gradually and spontaneously. Aching and burning pain is noted especially with morning activity. It may improve slightly with initial activity, but becomes worse with further activity. It is aggravated by exercise. Over time less exercise is required to cause the pain. The Achilles tendon is often enlarged, warm and tender approximately 1 to 4 inches above its heel insertion. Sometimes friction is noted with gentle palpation of the tendon during ankle motion. Tendinosis presents similarly but typically in middle-aged people. If severe pain and limited walking ability are present, it may indicate a partial tear of the tendon.
Diagnosis
A doctor or professional therapist will confirm a diagnosis, identify and correct possible causes, apply treatment and prescribe eccentric rehabilitation exercises. An MRI or Ultrasound scan can determine the extent of the injury and indicate a precise diagnosis. Gait analysis along with a physical assessment will identify any possible biomechanical factors such as over pronation which may have contributed to the achilles tendonitis and training methods will be considered. Biomechanical problems can be corrected with the use of orthotic inserts and selection of correct footwear.
Nonsurgical Treatment
There are many nonsurgical ways for treating both forms of tendinitis like resting, putting ice on the area and exercises. Healing of the Achilles tendon can be a slow process, because the area has poor blood supply. If the condition becomes chronic and symptoms do not improve within 6 months, surgery might be needed. Surgical treatment may be suggested if pain has not improved after six months of nonsurgical care.
Surgical Treatment
Treating this surgically, there are numerous methods to repair the tendon. Most commonly, Achilles tendon is exposed through an incision at the back of the ankle. After identifying both ends of ruptured tendon, the edges got trimmed and then both ends were sutured together with optimal tension. To get a better outcome with fixation, an anchor may have to be in place in calcaneus, provided the rupture is very low. Care must be taken to avoid injuries to the nerves located adjacent to the tendon.
Prevention
Achilles tendinitis cannot always be prevented but the following tips will help you reduce your risk. If you are new to a sport, gradually ramp up your activity level to your desired intensity and duration. If you experience pain while exercising, stop. Avoid strenuous activity that puts excessive stress on your Achilles tendon. If you have a demanding workout planned, warm up slowly and thoroughly. Always exercise in shoes that are in good condition and appropriate for your activity or sport. Be sure to stretch your calf muscles and Achilles tendon before and after working out. If you suffer from Achilles tendinitis make sure you treat it properly and promptly. If self-care techniques don?t work, don?t delay. Book a consultation with a foot care expert or you may find yourself sidelined from your favourite sports and activities.